Imagine a watch that not only tells time but also makes a statement about your lifestyle and commitment to both fashion and functionality. Well, that's exactly what you get with a Michael Kors smartwatch on your wrist.
Timeless Elegance Meets Modern Tech
When it comes to Michael Kors smartwatches, one word comes to mind: elegance. These timepieces are crafted with utmost precision and care, seamlessly blending classic aesthetics with modern technology. Whether you're dressing up for a business meeting or keeping it casual for a weekend brunch, a Michael Kors smartwatch complements any outfit, elevating your style game effortlessly.
Your Active Lifestyle Companion
In today's fast-paced world, staying on top of your fitness game is a priority for many. Michael Kors smartwatches get it. They come packed with a suite of fitness tracking features that are like having a personal trainer right on your wrist. From keeping tabs on your daily steps to monitoring your heart rate, these watches are your fitness buddy. And with GPS tracking, you can explore new routes and track your achievements with pinpoint accuracy.
Seamless Connectivity in Style
In the age of connectivity, Michael Kors smartwatches keep you in the loop without constantly reaching for your phone. Picture this: notifications for calls, texts, emails, and your favorite apps, all with a quick glance at your wrist. Plus, you can control your music playback, make payments, and get directions with ease. It's like having your own personal assistant, right there on your wrist.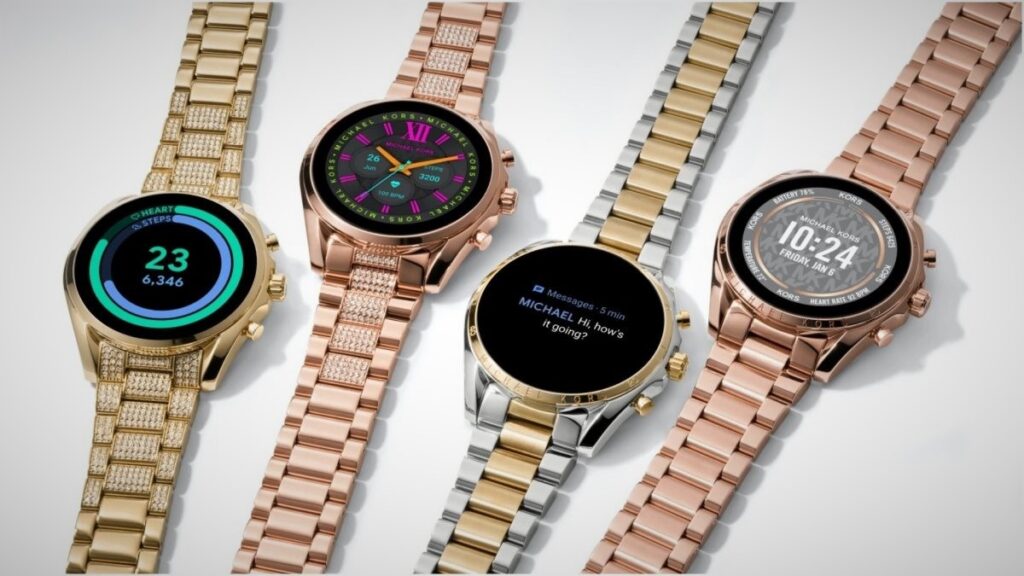 Unleash Your Personal Style
Your style is as unique as you are, and Michael Kors smartwatches get that. With a wide range of watch faces and bands to choose from, you have the power to personalize your smartwatch like never before. Mix and match to create a look that's as distinctive as your personality.
Built Tough for Life's Adventures
Life is full of surprises, and Michael Kors smartwatches are up for the challenge. These watches are water-resistant to at least 30 meters, so you can wear them with confidence in the shower or pool. Whether you're caught in a sudden rain shower or taking a dip, your smartwatch will handle it like a champ.
Power That Lasts All Day
Imagine a smartwatch that can keep up with your active lifestyle from morning to night. Well, Michael Kors smartwatches offer up to an impressive 24 hours of battery life on a single charge. Say goodbye to the stress of your smartwatch dying on you during a hectic day.
Effortless Charging
Charging your Michael Kors smartwatch is a breeze, thanks to its wireless charging support. No more fumbling with tangled cords—just place your smartwatch on the charger, and it's good to go when you are. Convenience has never looked so good.
More Than Just a Timekeeper
In a world where staying connected is non-negotiable, Michael Kors smartwatches are more than mere timekeepers. They become your indispensable tools for modern life, bridging the gap between your digital and real worlds.
Imagine being able to handle important calls, texts, and emails without breaking your stride. Picture controlling your music playlist effortlessly during your morning jog or making contactless payments at your favorite coffee joint. With Michael Kors smartwatches, these scenarios are your everyday reality.
Emotional Connection Matters
But beyond the practical benefits, these best android smartwatches offer something equally vital—emotional connection. In a world where work, family, and social life often blend together, staying in touch with loved ones and colleagues is more than convenient; it's a source of reassurance and support.
Knowing that you're just a phone call or text message away from the people who matter most can ease the daily stresses of life. The ability to share a laugh, seek advice, or simply say "I'm here" can make all the difference.
Mastering Your Michael Kors Smartwatch
To truly harness the power of your Michael Kors smartwatch, it's essential to explore its full range of capabilities:
1. Download the Wear OS App
The key to unlocking your smartwatch's potential is the Wear OS app. This central hub allows you to customize your smartwatch settings, discover and download new apps, and fine-tune your experience to your liking.
2. Discover the Features
Michael Kors smartwatches are packed with features that can simplify tasks and improve your daily activities. Take the time to explore and familiarize yourself with the full range of functions available. You might discover hidden gems that make your life easier.
3. Tailor Your Look
Personalization is at the core of the Michael Kors smartwatch experience. With an extensive selection of watch faces and bands, you can curate a look that mirrors your individual style and preferences. It's fashion that speaks uniquely to you.
In Conclusion
Michael Kors smartwatches are the perfect fusion of timeless elegance and cutting-edge technology. They're not just accessories; they're indispensable companions for those who demand both style and substance.
So, whether you're navigating the concrete jungle or embarking on an outdoor adventure, your Michael Kors smartwatch is your trusty sidekick. With its luxurious designs and advanced features, it's your key to staying connected, healthy, and stylish, no matter where life takes you. So, go ahead, make a statement, and embrace the best of both worlds with a Michael Kors smartwatch on your wrist.